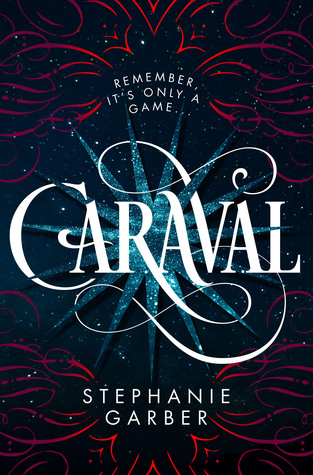 🌟🌟🌟🌟
Synopsis:
Remember, it's only a game…
Scarlett Dragna has never left the tiny island where she and her sister, Tella, live with their powerful, and cruel, father. Now Scarlett's father has arranged a marriage for her, and Scarlett thinks her dreams of seeing Caraval—the faraway, once-a-year performance where the audience participates in the show—are over.
But this year, Scarlett's long-dreamt-of invitation finally arrives. With the help of a mysterious sailor, Tella whisks Scarlett away to the show. Only, as soon as they arrive, Tella is kidnapped by Caraval's mastermind organizer, Legend. It turns out that this season's Caraval revolves around Tella, and whoever finds her first is the winner.
Scarlett has been told that everything that happens during Caraval is only an elaborate performance. Nevertheless she becomes enmeshed in a game of love, heartbreak, and magic. And whether Caraval is real or not, Scarlett must find Tella before the five nights of the game are over or a dangerous domino effect of consequences will be set off, and her beloved sister will disappear forever.
Welcome, welcome to Caraval…beware of getting swept too far away.
Review:
I enjoyed this! The mystical, magical setting with dangers lurking in the night, the twists and turns… it kept pulling me along so I didn't get bored.
With a different setting I don't think I would have liked this book as much, but Caraval kept me guessing at what was real. I honestly would have liked to follow some of the other players around so I could see more of what Caraval had to offer. What else can you buy with your secrets? Or would you like to give up some of your time instead?
The writing fit with the atmosphere quite well. Some may find it too flowery, but I think it added to the fact that Caraval is the place where things happen that can't anywhere else—so if you're stretching a few descriptions, I don't mind.
Romance! I can be quite picky with romance, but Julian was a necessary character in this book and I liked seeing him with his Crimson. Julian fits that "bad boy with an unclear past" without laying it on too thick and being too cliche. Without him to pull Scarlett out of her shell and get her playing the game, the book would have fallen flat.
Scarlett did annoy me at first, because as a narrator she starts out as quite snobby and naive. She does get better through the book as she breaks free from the way she has been raised. She is afraid to take risks because it has always been her job to be the cool one to her sister's recklessness, so in the beginning she turns her nose up at any risk. I'm so thankful Julian was there to help with that! In the end I did enjoy seeing her development.
No arranged marriages, please, Scarlett!
I did want to see more of the sisterly love. Is that a funny thing for me to say, considering that the whole story revolves around Scarlett getting her sister back? But for all that she wants to find her sister, she spends a lot of time talking about how self-absorbed Tella is, which added to Scarlett's snobbishness. I guess part of that is sisterly frustration, however… because since the sisters aren't together for much of the story due to Tella being taken away early in the story, that means I was fed this story of "terrible Tella" for the majority of the time, which made the stakes seem lower as it dulled the reasons Scarlett wanted Tella back.
Still, a good read! I'll be picking up the sequel sometime.