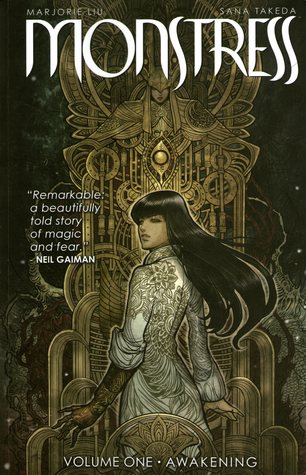 🌟🌟🌟🌟
Synopsis:
Set in an alternate matriarchal 1900's Asia, in a richly imagined world of art deco-inflected steam punk, MONSTRESS tells the story of a teenage girl who is struggling to survive the trauma of war, and who shares a mysterious psychic link with a monster of tremendous power, a connection that will transform them both and make them the target of both human and otherworldly powers.
Review:
This is one of the few graphic novels that I have read so far, and despite it being quite different from my expectations, I enjoyed it! The illustrations, to start with, are beautiful. They are so detailed, and impart the atmosphere of the story and the expressions of the characters wonderfully.
The synopsis of this book does not give much information, so I will try to the best of my abilities to explain it further.
This is a sort of steampunk and fantasy world, where there are five races:
Humans: Just like us on Earth.
Ancients: These are, I believe, immortal, hold great power, and appear as animals or with at least some animal traits.
Arcanics: A hybrid of Humans and Ancients. They have some power, and most have animal traits, inherited from their Ancient parent.
Cats: They can have more than one tail! They are also capable of speech, and seem to be of the wise and scholarly type.
Old Gods: There isn't much revealed about them, but they seem to be asleep… or maybe dead?
The Arcanics and Humans take the main stage in this story. They have been at war with each other, and there is immense hate between Humans and the other races. A group of witch-like Humans, called the Cumaea, are always on the hunt for Arcanics so that they can kill them and use them to make something called Lillium. Lillium seems to have healing capabilities, and can provide a source of power.
This story begins by introducing the main character, Maika Halfwolf, who was recently captured by the Cumaea. She escapes soon after, and the book shows her journey running from the Cumaea and other ill-meaning people as she attempts to unravel secrets connected to her. We know that Maika has a link to a powerful monster, but she cannot remember why or how this happened, and worst of all, she cannot control it.
There is a lot of information to take in within these pages, so I do wish I would have decided to take notes for this one. There's a lot of history and hints lying just beneath the surface, so make sure you pay attention if you read this!
This is a dark graphic novel, and when I picked it up I did not know that it was categorized as horror. There is gore illustrated in here, and trigger warnings include slavery, human trafficking, and child brutality/torture. But while it was dark, the story was compelling. I was immersed in trying to figure out all that was going on, and Maika makes a determined and mysterious character. I want to see what she can accomplish in the coming volumes!